Dear Members,
The Moraga Police Officer's Association and the US Marine Corps Reserve Toys for Tots program are joining forces in 2017 to help bring joy to children in the Bay Area during this holiday season.  The mission of the US Marine Corps Reserve Toys for Tots program is to collect new, unwrapped toys and distribute those toys to less fortunate children in the community in which the campaign was conducted.  The objectives for the Toys for Tots are to help less fortunate children throughout the United States experience the joy of Christmas; to play an active role in the development of one of our nation's most valuable resources – our children; to unite all members of local communities in a common cause each year during the annual toy collection and distribution campaign.; and to contribute to better communities in the future.
The Moraga Peace Officers association is having a Toys for Tots drive and has requested our help in providing wine for the event at the Hacienda de las Flores on Friday, December 8th at 6pm.
If you are willing to donate commercial or non-commercial wine to this event, you can drop it off at the Hacienda main building (living room/kitchen area) after 3pm on Friday, December 8th or contact Will Davis at (925) 786-2085 for coordinating another time for drop-off or pickup.
You are also welcome to join the event and they would be happy to accept new, unwrapped toys or monetary donations.
Monetary donations can also be made to: Marine Toys for Tots Foundation, Moraga Police Officers Association, 329 Rheem Blvd, Moraga, CA 94556.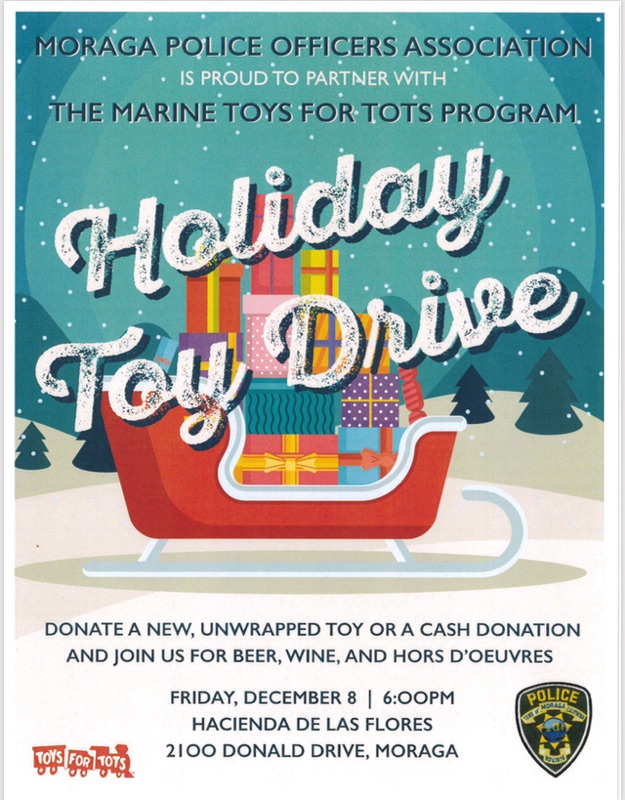 Happy Holidays!